POOL HOUSE & BAR
THE PERFECT SPOT FOR SOME APRES-SUN COCKTAILS AND SNACKS
---
The Pool House & Bar is open seven days a week all summer long.
Monday - Saturday from 2pm to 8pm; and Sunday from 12pm to 6pm.
Set against native landscaping, The Sandman's heated pool (and hot tub!) are an oasis of fun. The pool is large enough to accommodate families and groups of friends, yet the natural redwood fence helps it feel tucked away and private. Our heated pool and hot tub are open year-round from 9am to 10pm.
At the Pool House & Bar, you can spend a leisurely day sipping cocktails, reading a good book or just take a refreshing dip after a hard days' work. The pool house was completely renovated with flow in mind. A large glass garage door and a walk-up bar window make the area feel like one large indoor/outdoor space.
Starting October 1st, hours and days of operation may vary. Please call the hotel for more details on off-season hours.
The final Sandman Summer Nights of 2018 is August 17th. Don't miss out on the fun!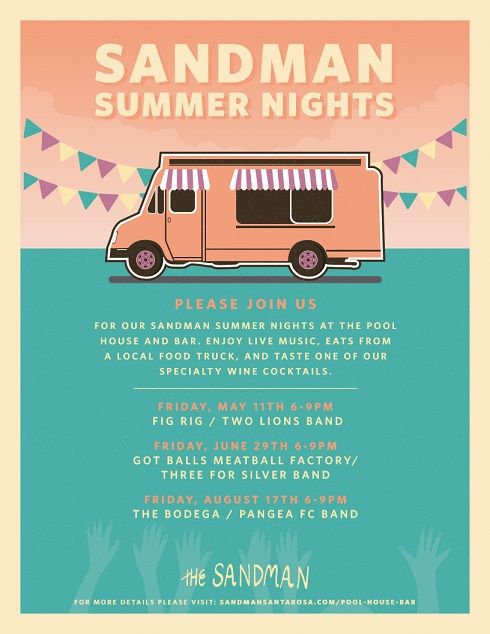 It's been a great summer at the Pool House & Bar! Our Summer Nights events in May and June featured music from local artists Two Lions Band and Three for Silver, plus delicious eats from the Fig Rig and Got Balls Meatball Factory food trucks. Don't miss out on the last event of the season, coming up on Friday, August 17th:
Friday, August 17th 6pm-9pm:
Food truck provided by The Bodega, featuring California Street Food-inspired menus that use locally sourced seasonal offerings. You can look at some of the delicious items from previous menus on their website: https://www.thebodegaca.com/menu/
The last concert of the summer is not to be missed with Pangea FC bringing their global vibe to the Sandman. A staple of the San Francisco music scene for over a decade, their infectious brand of world grooves has one mission: bringing people together through the pulse and rhythm of music. https://pangeafc.com/
Check out some of the images from our previous Summer Nights events this year: