Outdoor Fun at The Sandman
Stay & Play
The sprawling lawn next to the Pool at Sandman Hotel is a spectacular setting for bocce ball. We invite you to enjoy this quintessential summer pastime with family and friends. All equipment is provided free of charge throughout the day and is available on a first-come, first-serve basis in the Pool House & Bar, next to the swimming pool.
Bocce is played with two teams of one, two or four players. The object of the game is to roll the bocce ball closer to the smaller target ball (pallino) than the opponent.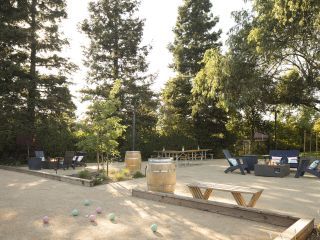 The shaded lawn area is adorned with comfortable outdoor seating with fire tables, perfect for enjoying a drink, smores or a picnic.